Jan 17, 2013 at 02:21 PM
Dunder Mifflin Copy Paper Crowdsources Super Bowl Ad
Using ad crowdsourcing website, Tongal.com, Dunder Mifflin Copy Paper has tasked the creative community with coming up with "a super funny and entertaining TV commercial – to possibly air in Scranton, PA during The Big Game in February 2013 – that will generate awareness, excitement and love for the expanded line of Dunder Mifflin products."

But it's not all fun and games. There's a real product at the heart of this. The project goes on to state that Dunder Mifflin products should be the key focus of your commercial, and you must show their flagship product: Dunder Mifflin Copy Paper.
"It should be done in the spirit of "The Office" without coming across as a parody of it and engaging enough to generate continued online appeal beyond being a great and memorable TV commercial," the brief states.
In 2011, NBC Universal licensed the Dunder Mifflin brand to create Quill's Dunder Mifflin Copy Paper. The Dunder Mifflin Copy Paper product, which launched this past November, is likely to outlive its namesake TV show, which is in its ninth and final season. For providing the license to create Dunder Mifflin products, NBC Universal reportedly receives 6% of revenue on the product's sales.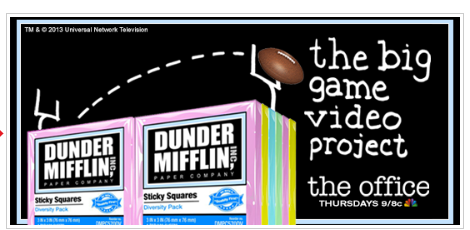 #activationstag